Arsenal strut past Manchester United with unmistakable aura of champions | Premier League
Sunday in London and all you can see is fumes: hot breath on cold air and vape smoke and dope smoke and steam rising from sweaty heads and a hype they can finally believe in. Of course Eddie Nketiah is delighted and of course Oleksandr Zinchenko is delighted, but have you ever in your life seen such happy unused substitutes? Sunday in London and it doesn't matter whether you're in the back row pressed against the stained glass, or so close you can grasp the hem of the preacher's garment. Everyone in this congregation gets saved in the end.
The post-Christmas Emirates is a different place to what it was pre-Christmas. There's a swagger and an arrogance here now, the sweet spot where old certainties meet new stirrings. And they no longer ask, they demand. Even the sticky periods are waited out with measured impatience rather than dull dread. OK, Marcus Rashford. Nice header, Lisandro Martínez. But what time do we actually win?
Ninety minutes this time, and yet it felt as inevitable and inexorable as the kiss at the end of a romantic movie. It felt inevitable from the moment Erik ten Hag produced Fred from the bench with 20 minutes left and informed the world that Manchester United would be happy with a draw. Fred played well, and on the whole so did United, but it was a fatal tell. There was a kind of compliance there, a submission to circumstances, a reminder that United have not yet developed the trait that marks out most champion teams: the ability to take, and take brazenly, the thing that you do not deserve.
But Arsenal have earned this aura, earned this respect, earned the extra yard of space you get from scared opponents. Bukayo Saka had five shots in this game. Either Mikel Arteta has told him to be more direct or he has worked it out for himself. Defenders are standing off him. They're terrified to commit. Simply by reputation, Saka has earned the extra yard of space that all wingers crave.
It started happening to Mohamed Salah around the end of his first season at Liverpool. Yes: right now, Saka is in that league. There was one nutmeg of Scott McTominay in the first half that was pure disdain, a move that said: "What are you even doing here m8, I wanted Casemiro." Luke Shaw initially handled him well by standing off, and so like the best players Saka adjusted. He started releasing the ball first time. He started shooting on sight. Shaw has been one of United's best players this season and Saka broke him, piece by piece.
There is something of Jürgen Klopp's Liverpool to Arsenal at the moment, the way they set about you like a mob with a grudge, the deliberate chaos, the liberty to try pretty much anything they want – shot from distance, rainbow flick, impossible pass – because they always trust themselves to win the ball back afterwards. The way they evolve in real time: eventually Arsenal realised that Rashford was the only United player who could hurt them, and so ruthlessly doubled and tripled up on him. Rashford began the game like a typhoon and ended it with three touches in 30 minutes.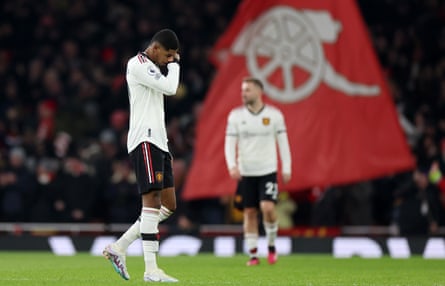 This is the difference between United and Arsenal, two teams on a similar trajectory but at wildly different stages of it. Remember how pragmatic Arteta's Arsenal could be in their first couple of seasons. That was Ten Hag here: a coach who has not yet earned the time and credit to discard caution. This is the hardest fixture in the league right now and one point is a good point. So Fred, not Alejandro Garnacho. A compact midfield diamond, not a late blitz. Rashford stays on the left, not let loose through the middle. This is where United are right now, and this is why they will not be champions.
Arsenal will be champions. It's about time someone committed this to print. They will not say it themselves, they may not even yet believe it themselves, but there is not a better or more complete team in England. All the vital signs are there: their reading of games, their hunger to win the ball back, the way opposition teams can attack them, even score against them, but never truly surprise them.
The way they come back. Before this game Arsenal had been behind four times this season and this is how long it took them to equalise: eight minutes, 25 minutes, 24 minutes, 26 minutes. Here it took them six minutes. The way every player somehow chips in. Nketiah has been a bit-part player for his entire career. Even now everything seems to come a little harder to him. The goal frame somehow seems smaller in his presence. And yet he left the field with two goals, a 90th-minute winner, grown men bowing down to him in the stands.
Nketiah scores in the 90th minute and here's the thing: the cheer for the goal is smaller than the noise that greets the successful VAR check a few moments later. The goal is expected, priced in; the short technology interlude is the closest thing the evening has to genuine jeopardy. Check complete: goal. On they go, and out they go: Sunday night in London and everyone is giddy and giggling, like they all know a secret they can't tell anyone yet.