Arsenal didn't win the title for you Dad, but watching them try helped me | Arsenal
"Come to see the Arsenal … you've only come to see the Arsenal …" The refrain continues, as it always will, repeated in the treasured memories of watching Arsène Wenger's fabulous team with my father, Ray, in their glory years. But we're not singing along. Ray is most likely succeeding in not showing his delight after another goal is rattled in, while sharing a knowing look with my brother, Adam, and I. Meanwhile our poker faces will have undoubtedly left a little to be desired. How we basked in the choir's production, almost silent partners muddled in with hapless home supporters safe and smug in the simple truth that we had, indeed, only come to see the Arsenal.
Growing up as Arsenal fans in Telford made these clandestine trips a necessity. My brother and I fell in love with the club thanks to our dad's passion and to an individuality built quickly through standing together in a playground crammed with Manchester United fans. Originally from Essex, Ray's career dictated frequent moves before we settled in Shropshire, where our north London outpost felt like it would be forever stationed.
It will certainly be in memory but we both flew the nest for university and settled in London long before Wenger departed, the dust settling on our away days never to be shaken off as on 9 December, 2021 our captain was taken away from us. Ray failed to make it home from work after a cardiac arrest, he was 63. We had been texting less than an hour before it happened, then we would never talk again. It was unfathomable.
The rug was pulled so violently it left a sense of being untethered from him completely, wondering what might have been, what could have been said, how you might have been closer and known each other a little better. It was a bitter pill to swallow thinking how we would never recapture memories of us watching the match together. Did we grow that far apart?
Of course not, life just gets in the way, but the fog of grief rarely allows for such clarity of thought. Amid the pain of searching for answers my mind would turn to the pride and joy he gifted us in being part of a family bigger than our own. It was Ray that bought Adam and I the tickets to see an FA Cup tie against Leeds in 2012. The explosion of joy as Thierry Henry's legend flickered for another moment just as impossible to anticipate as Ray leaving us.
There was another Arsenal hero on the pitch that day, only we didn't know it yet. Mikel Arteta's first appearance as captain ended in success, a winning feeling, one that has been a touchstone this season for thinking about Ray and how much he would have enjoyed our inexorable return to the glory years. Only all the happiness and whimsy of it being 'for Ray' flew out the window as swiftly as Aaron Ramsdale gifted Southampton that lead.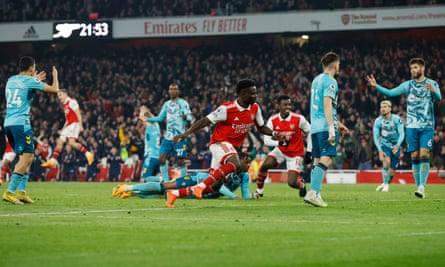 In truth, I almost missed it, such was my attempt to soak in a different, energised Emirates. My only chance to see Arsenal on this journey this season was now ending in disaster before it had begun. It had felt slightly ominous watching live for the first time since Ray had passed and anger quickly became the prevailing wind. It was all wrong, what was the point, it was all over. Theo Walcott then quickly confirmed our fate: salt meet wound. It feels embarrassing now but it also makes perfect sense that such a huge emotional tariff had been placed on winning that match and the title. A high-stakes gamble on being able to truly thank my father for being able to call myself an Arsenal fan.
However, Arteta would mercifully allow me to begin to see my errors before 90 minutes had elapsed. His team refused to give up, digging out a miraculous 3-3 draw, the roar from Bukayo Saka's equaliser still ringing in my ears, another refrain repeated from memory, only in this one I am part of the din.
It still stung when Manchester City dominated the decider a few days later and when they were confirmed as champions without them kicking a ball. The pain is instructive though, it hurts because we did come close but the audacious thrill of such a young, confident, powerful and passionate team emerging, leaving their mark has helped signpost a path through a deeper one.
Arsenal's success may not have measured up to a treble or even a tin cup but they have been tremendous. Thanks for taking me to see the Arsenal, it means the world.