Arkansas players Jordan Walsh, Anthony Black, Nick Smith Jr., Ricky Council in post NBA Draft Combine mock drafts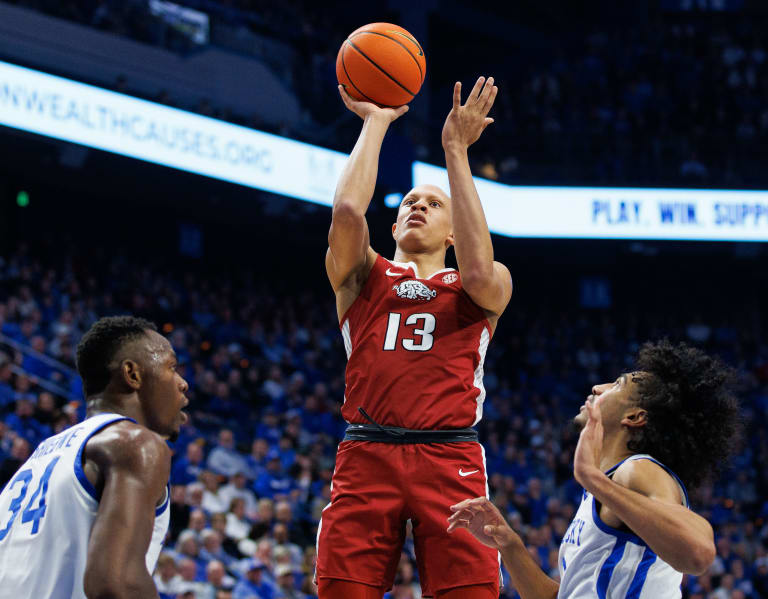 Four Arkansas players have wrapped up their participation at the 2023 NBA Draft Combine, which took place Monday-Thursday at Wintrust Arena in Chicago, Illinois.
Freshmen Anthony Black, Jordan Walsh and Nick Smith Jr. were joined by Ricky Council IV to represent the Razorback brand. While Black and Smith did not participate in the team scrimmages, Walsh and Council did and it seemed to have boosted their respective draft stocks.
Walsh was scoreless with six rebounds, five assists and no turnovers in 19 minutes during his scrimmage on Wednesday. He built on that performance by scoring 15 and adding seven rebounds and five assists during a scrimmage Thursday.
"Well, he did a little bit of everything but score the basketball," Musselman said of Walsh's performance on Wednesday. "He's an excellent rebounder for his position. A very, very unselfish player and I think he showed those skills that he has. Being unselfish, moving without the basketball and being a range rebounder. He does a great job rebounding out of his area."
Council scored four points on 2-of-5 shooting and added two rebounds, two assists and a steal in just over 19 minutes of game time on Wednesday. The Wichita State transfer scored nine points and recorded an assists in Thursday's scrimmage.
"Ricky is a guy that he's one of the best athletes in the draft," Musselman said of Council on Wednesday. "He can really, really score the basketball. He's a very good defender. A guy that can really draw free throws. And his game goes to a whole other level when you can get him in isolation situations or if you can get out in transition. He's an incredible finisher on the break."
Black and Smith are commonly being mocked as lottery picks, but Council and Walsh are both just hoping to hear their names called at some point.
Here's a look at some respectable mock drafts following the combine and the results of Tuesday's NBA Draft lottery, which set the picks in stone for the NBA Draft, which will be held on Thursday, June 22…
Anthony Black – 6'7″, 198 pounds (Duncanville, Texas)
Bleacher Report (Wasserman): No. 9 overall to Utah Jazz
ESPN (Givony): No. 8 overall to Washington Wizards
The Ringer (O'Connor): No. 8 overall to Washington Wizards
The Athletic (Vecenie): No. 9 overall to Utah Jazz
Yahoo (Peek): No. 9 overall to Utah Jazz
NetScouts: No. 9 overall to Utah Jazz
USA Today (Kalbrosky): No. 10 overall to Dallas Mavericks
CBS Sports (Parrish): No. 6 overall to Orlando Magic
Nick Smith Jr. – 6'5″, 185 pounds (Jacksonville, Arkansas)
Bleacher Report (Wasserman): No. 13 overall to Toronto Raptors
ESPN (Givony): No. 13 overall to Toronto Raptors
The Ringer (O'Connor): No. 14 overall to New Orleans Pelicans
The Athletic (Vecenie): No. 15 overall to Atlanta Hawks
Yahoo (Peek): No. 13 overall to Toronto Raptors
NetScouts: No. 13 overall to Toronto Raptors
USA Today (Kalbrosky): No. 17 overall to Los Angeles Lakers
CBS Sports (Parrish): No. 17 overall to Los Angeles Lakers
Jordan Walsh – 6'7″, 205 pounds (Desoto, Texas)
Bleacher Report (Wasserman): undrafted
ESPN (Givony): No. 38 overall to Sacramento Kings
The Ringer (O'Connor): undrafted
The Athletic (Vecenie): No. 48 overall to Los Angeles Clippers
Yahoo (Peek): undrafted
NetScouts: No. 46 overall to Memphis Grizzlies
USA Today (Kalbrosky): undrafted
CBS Sports (Parrish): undrafted
Ricky Council IV – 6'6″, 205 pounds (Durham, North Carolina)
Bleacher Report (Wasserman): No. 35 overall to Oklahoma City Thunder
ESPN (Givony): No. 41 overall to Charlotte Hornets
The Ringer (O'Connor): undrafted
The Athletic (Vecenie): undrafted
Yahoo (Peek): No. 43 overall to Memphis Grizzlies
NetScouts: undrafted
USA Today (Kalbrosky): No. 51 overall to Brooklyn Nets
CBS Sports (Parrish): undrafted
**JOIN THE CONVERSATION WITH ARKANSAS FANS ON THE TROUGH, HAWGBEAT'S PREMIUM MESSAGE BOARD**