Andy Murray Targets Ruthlessness And Ranking After Brutal Australian Open | Andy Murray
At the end of a delirious six days in Melbourne, as Andy Murray again battled into the night and took his audience on a journey of persistence and grit across three consecutive rounds, he was asked if the sacrifices and efforts he had made in order to prepare for the tournament were worth the result. He took a moment to consider his answer.
"I felt good about the way that I was playing," he said. "It's more enjoyable for me when I'm playing like that, when I'm coming into a major event and really believing that I can do some damage. But I can have a deeper run than the third round of a slam, there's no question about that. Obviously draws can open up for you. I need to also help myself with that."
Murray pointed to the improvements he can make in order to make life easier for himself. The obvious obstacle, as he discussed throughout last season, is his ranking. Arriving in a grand slam tournament unseeded puts him at the mercy of the draw.
As he moves on with the season, improving his ranking in order to be seeded at slams and smaller ATP events alike will naturally be one of his goals. While Murray feels he is in far better shape to battle with top players than last season, his Australian Open was a reflection of the increased effort it takes to topple a top player and how such tight matches can set the tone for the rest of the event.
Murray will next play in Rotterdam, the indoor ATP 500 event that begins in three weeks on Monday, and then his schedule is full. He will also compete in Dubai in February, then at the Sunshine Double, Indian Wells and Miami.
At the end of the Australian Open, Murray will be ranked around 62nd. After continually losing in the second round of tournaments throughout last spring, Murray has only 160 points to defend before the clay court season. Should he hope to move towards the top 32 in order to secure seeding in the second half of the season, he must start making positive strides.
Whether he chooses to compete on clay will be another decision to make. After not contesting the clay court season in 2021, Murray had planned not to compete on clay last year before he changed his mind.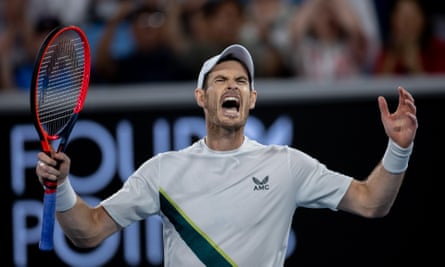 It ended up being a smart decision as he played some of the best tennis of the year, reaching the third round in Madrid where he was due to face Novak Djokovic before contracting illness. If Murray is able to maintain the physical shape he has started the season in, and if improving his ranking remains a priority, then contesting the clay court season seems like a valuable choice.
What is clear is that Murray has made undeniable strides. He moved extremely well and he struck his forehand more authoritatively than he has done for years. He played proactively, moving forward to the net and attempting to dictate. In his first round match, before his lower-back issues, he served well in decisive moments.
"I think what he's done this week, as I think it'd be argued that it has been one of the most impressive physical acts any athlete could do," said Leon Smith, Great Britain's Davis Cup captain. "When you think what he's gone through to be able to go out there and play that much tennis and the quality of tennis, and the movement side of things and to be able to get up and do it again."
Murray started the tournament playing at an extremely high level against Matteo Berrettini and he dominated the first half of the match. As Berrettini's level, and serving, increased, he went blow for blow with a top player in full flight and had chances to swiftly end the match, standing two points away from victory in the third set tiebreak and then holding break points in the fourth set.
His tournament could have looked very different if he was able to finish his first match efficiently, but despite how well he played, he could not. He took the scenic route, edging out Thanasi Kokkinakis in five sets with admirable fight, but it highlighted another condition in any further improvement.
Much of Murray's career has been defined by his tendency to be sucked into long, dramatic and sometimes unnecessary encounters. At 35 years old and with all of the physical challenges that come with playing professional tennis with metal hip, as fun as the ride can be, it is in his best interests to be more ruthless and conserve energy where he can.
Still, as Murray returns home to prepare for his coming events, he leaves with the sense of progress that should certainly validate his efforts. He had a great off-season and those gains are evident right at the beginning of the new season. He has given himself ample reason to be hopeful and motivated for the tournaments to come, regardless of how his results fall.