Andrey Rublev: 'I Lost Them Matches Because Of Myself. I Couldn't Handle The Pressure' | Tennis
As yet another enormous opportunity rapidly slipped from his grasp in the US Open quarter-final against Frances Tiafoe last summer, a distraught Andrey Rublev slumped down in his chair and cried into his towel.
The match wasn't even over, but Rublev was all too familiar with how these events normally end. Despite his considerable achievements, from being a permanent fixture inside the top 10, to 11 ATP titles at the time and an Olympic gold medal, his career, in his mind, was also defined by what had evaded him. Rublev had contested seven grand slam quarter-finals and two Masters 1000 finals before this spring, losing every single one.
"Those matches were really, really disappointing to me because in the end, I lost them because of myself," Rublev says in an interview with the Guardian. "I felt that I had chances to be in the semis but I couldn't handle the pressure. I couldn't even play. I was not playing because of my emotions. In the end, of course I was disappointed a lot. It took me a while to recover."
Rublev has found great success due to a metronomic attacking baseline game centred around finding his forehand and relentlessly unloading on the stroke until the ball doesn't come back. His inability to pair his game with variety has proved limiting against the very best, but by far his biggest obstacle has been his head.
While Rublev is kind and soft-spoken off the court, he can be volatile in the heat of battle. The world No 6 inflicts the worst of his anger on himself, from berating his own play to more concerning outbursts like punching his strings until his knuckles graze and drawing blood from striking himself with his racket.
"In the end, I wanted it so badly that I couldn't handle the pressure during the matches," he says. "I was not really playing, I was completely tight and full of negative emotions that, in the end, it was not even giving me chances to win a match."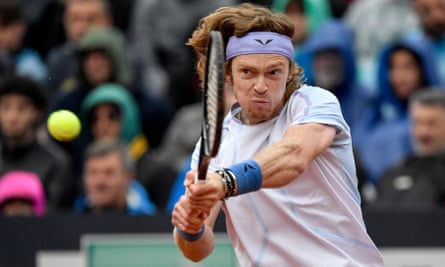 This year, however, has seen a visible shift in Rublev's mentality. He has shown that he is not only capable of containing his emotions under pressure, but his desire can be an asset in difficult moments. In his chaotic five-set Australian Open fourth round match against Holger Rune, the 25-year-old recovered from two match points down and various deficits to win. A month later, he trailed Alejandro Davidovich Fokina 1-6 in the second set tiebreak of their Dubai match – five consecutive match points. He somehow emerged as the victor.
Such comebacks were stepping stones to his most significant performance of his career. Last month, the Russian reached his third Masters 1000 final in Monte Carlo. After trailing Rune by 1-4 and two break points in the third set, Rublev remained completely composed. He overturned the deficit to win 5-7, 6-2, 7-5 and clinch his first Masters 1000 title.
After years of psyching himself out of big matches before he even stepped onto the court, Rublev said he entered Monte Carlo really not expecting to win and those low expectations aided him. Yet it is also reflective of the work that has gone into his mental game, first by recognising his issues.
"Instead of saying: 'Yes, I'm completely tight and I cannot put the ball in play,' you start to say: 'No, the wind, the sun. It's because of the sun or the referee, or the spectator screams something or the [opponent] took time. Instead of 20 seconds, I was waiting for him for one minute and he broke my rhythm.' It's because you're afraid to say that you got tight," he says.
Meanwhile, Rublev has embraced being open and transparent with both his team and himself: "It's being honest with yourself, being honest with your team, listening to them and being open to tell them your fears and what is happening in your head, and then to analyse together what you can do better or how you can do better. Then also, some meditation. [And in] moments when you're really pissed outside the court and life, try to not be negative."
Rublev says he "wants to believe" that his mental work is having a positive impact and that it will continue to pay off. He is still a work in progress; there will be many more times when his emotions get the better of him. But after taking such a significant step forward, Rublev's standing has risen within the game as he attacks Rome, with Roland Garros to come.