Ajax's match at Groningen abandoned amid smoke bombs and fan unrest | Ajax
The Dutch league match between Ajax and already relegated Groningen was halted and then called off with only nine minutes on the clock, after fireworks were twice thrown on to the pitch on Sunday.
In the sixth minute of the clash in Groningen smoke bombs were thrown on to the field. Shortly afterwards, a supporter ran across the pitch with a banner calling for the Groningen board to go. The referee reacted by taking the two teams off the pitch.
When they returned, smoke bombs were thrown again, leading to the match being called off, in line with new Dutch football guidelines brought in earlier last month.
It followed crowd violence in the Dutch Cup semi-final between Feyenoord and Ajax in early April when a cigarette lighter thrown from the crowd hit Ajax midfielder Davy Klaassen and cut his head, causing a lengthy delay to the match.
The Dutch football association then decided that all matches would be stopped immediately if a player or match official was hit by an object from the crowd.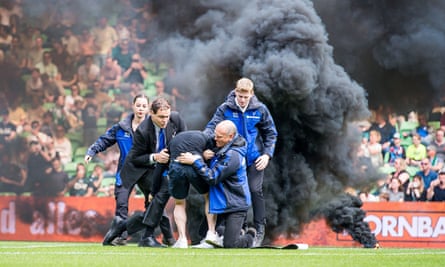 They also decided that if an object is thrown from the terraces but misses, play will be temporarily stopped with the players sent to the dressing rooms. If the same thing happens a second time, the match is to be immediately stopped.
The new guidelines have done little to halt a growing problem for the Dutch game. Three top flight matches on Friday and Saturday were temporarily halted because of objects thrown on to the field.