Advantage Sunderland after Hume seals narrow first-leg win against Luton | Championship
Could Sunderland be about to be promoted by mistake? For a long time, it has felt as though no matter what they did, it would all go wrong. Relegations, defeats at Wembley, misfortune with average points, pratfall after pratfall.
"Why," as one tearful fan filmed for the Sunderland Til I Die documentary asked as she left the 2019 playoff final defeat to Charlton, "can it never be us?" Except suddenly it looks as though it might be. Unexpectedly and almost despite themselves, it looks as though the rise that began with victory over Wycombe at Wembley last year might be about to continue.
The second leg will not be easy. Luton, as the Sunderland manager, Tony Mowbray, said, are "really athletic, really powerful… well-coached". They have had a fine season and to be so close to the top flight less than a decade after returning to the Football League is in itself an achievement.
They will surely get the ball into the box more than they did here, and because of the injuries that left Sunderland with one 6ft-plus outfielder and a back three comprising a converted winger, a converted full-back and Luke O'Nien, who has played pretty much everywhere with the same baby-faced ruggedness, that should represent a major threat.
It was no great surprise when Luton struck with their first corner of the game, Elijah Adebayo firing in after Anthony Patterson had saved from Alfie Doughty. But thereafter Sunderland, with Pierre Ekwah dominant in midfield, restricted Luton's delivery into the box.
"We lost a goal to a set play which we knew we were vulnerable from," said Mowbray. "It's hard if you're 5ft 10in and trying to win headers against somebody 6ft 5in. We lack physicality but I thought we competed really well all over the pitch – snarling dogs, if you like. And Ekwah showed what a class act he is."
But on a smaller pitch at Kenilworth Road, the second leg could become a barrage. "In terms of physicality, everybody's making a big thing of that, but they compete really well," said the Luton manager, Rob Edwards. "You don't have to be 6ft 5in to win a header but it will be slightly different on Tuesday. But if we go too direct too soon the game becomes a bit more transitional and you're giving their best players more space."
Having started well, Sunderland struggled to find their rhythm, but they are a side with individuals who can provide inspiration without much warning, nobody more than Amad Diallo. Six minutes before half-time, he added to his catalogue of remarkable left-footed strikes whipped into the top corner, this time with a free-kick. If Charles Reep had watched only him, he would have concluded the position of maximum opportunity, far from being an area about six yards from the back post, was a sliver of turf roughly 15 to 25 yards out just to the right of goal.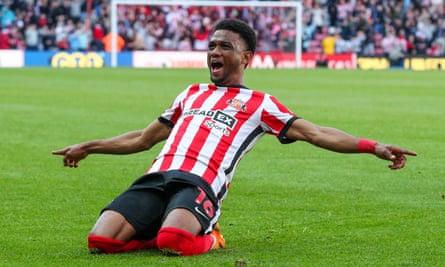 Diallo, on loan from Manchester United, has been the outstanding player this season, but in a season in which thigh and achilles injuries restricted Ross Stewart to only 11 starts, Ellis Simms was recalled by Everton, Corry Evans has not played since January and centre-backs have become as endangered as drummers in Spinal Tap, the key has been resilience. Mowbray appears simultaneously bewildered by how good some of his squad is and by how miserable luck seems never to faze them.
For a time in the second half, as Sunderland began to put together the long skeins of passing that have characterised them at their best this season, the red-and-white waves began to flow.
It was only for about 10 minutes but it brought a most unexpected thing: a Sunderland goal from a corner, something they had previously achieved this season only in the FA Cup at Shrewsbury. It was not – obviously – just slung into the box, but tidily constructed, Diallo at the heart of it, before Clarke crossed for Trai Hume to nod in. If you are role-playing as a centre-back, you may as well go the whole hog.
Like Luton, Sunderland have been much better away from home than they have at home. They will again, in the second leg, be patching a defence together from any players they can find who are not wingers. It shouldn't work but somehow, at the moment, that doesn't seem to matter.