Aaron Ramsdale: 'Arsenal bottled it? That's just a quick, cheap narrative' | Arsenal
When Arsenal returned to training on Tuesday their manager had a pick-me-up ready to go. Mikel Arteta's quirkier motivational methods have achieved renown but this was more straightforward. Where usually the classroom inquest into a weekend game would bring clips of points for improvement, rounded off by reminders of things they had done well, this time the tone was kept entirely positive. The squad had cut dejected figures leaving the Emirates two days previously, Brighton having comprehensively put any remaining title pretensions to bed, and even Arteta had struggled to perform his usual hype-man act afterwards. Now he sensed a dose of perspective was needed.
"We did a different style of meeting, just remembering how far we've come," says Aaron Ramsdale, whose frustration at being lobbed by Deniz Undav for the Seagulls' second goal had been clear. "He put on the board about how we can still have the most wins by an Arsenal team in the Premier League, and about how it's very disappointing at the moment but how progressive the season has been, how positive we can be."
Ramsdale, sitting next to a pond on a warm day at Arsenal's training ground, can appreciate the sunny side too. The fruits of their labour are already rich: a return to the Champions League and only a third top-two finish in the last 19 years. Extra benefits have come Ramsdale's way. On Thursday he signed a new contract and it was recognition, at the end of his second campaign with the club, that he has become an integral part of their rebirth.
"This season has been incredible, the jump from last year especially," he says. "But I understood my ability and it was just about trying to unlock that and do it more consistently. I'm still learning and trying to hone some skills but the good thing for me is that I'm helping the team on a regular basis, when called upon, more often than I'm not."
In some ways Ramsdale epitomises this Arsenal team. He turned 25 on the day of the Brighton defeat – "I don't want to play on my birthday again" – and is still young for his position. There is a vibrancy to his game, as far as a keeper can display that: a relatability that won over the numerous doubters after his arrival from Sheffield United. In general he has thrived, although in common with his teammates there remain rough edges such as the error, to which he refers more than once, that gave Southampton a leg up in the damaging 3-3 draw last month.
"Although it started negatively online, as soon as I got on the pitch and wore an Arsenal shirt for the first time at West Brom I was backed fully and I've always been grateful for that," he says. "I go back to the Southampton game where I made my mistake and they were singing my name, trying to get me back on track."
For Ramsdale the to-and-fro with those behind him, friends or foes, is part of the game. In February a Spurs fan was banned for four years after kicking him in the back at the north London derby but, when channelled within the law, he feeds off the interaction. He speaks approvingly of the atmosphere at Anfield, a venue fresh in his memory from April. "You get clapped by the Kop when you come out for the second half and 30 seconds later you're getting hammered, then at the end of the game they give you a clap and show respect. That's the way I like it.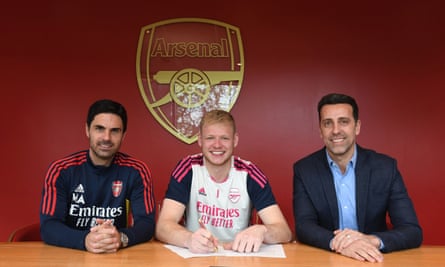 "I should be able to enjoy myself while playing and it [my behaviour] never really oversteps the mark, ever. It's more about: if you're going to give it to me, just know that if we score or you don't win, I'm going to celebrate in front of you, just like you would give me something if I made a mistake."
Ramsdale deserved that round of applause at Anfield, two stellar late saves having preserved a point for Arsenal. But their surrender of a 2-0 lead there began the tail-off, albeit relatively minor, that ultimately rendered title hopes fanciful. Anyone would kick themselves at letting an eight-point lead slip, albeit having played a game more than Manchester City, but their main crime was not to have attained perfection. Talk of bottle jobs quickly surfaced externally: knowing the strides they have made, does that irk Ramsdale and his teammates?
"It does when it comes from certain people who don't necessarily have the knowledge or the experience. I also think it's very hard to say that with a team [City] who have won it in five of the last six years, gone on an 11-game winning streak and will potentially win the treble. So we have to be realistic as well.
"This narrative of 'bottled it', I think it is an easy way out. It's just quick, cheap narrative from certain people who have not actually gone digging into stories of what we've achieved. Some people are saying it and forgetting that other teams have had the same experience as us. We let them worry about that, let them get views and people listening to them. We are disappointed but extremely proud of ourselves as well."
He explains the strain involved in competing for first place hardly compares to the relegation fights he endured with Bournemouth and the Blades, both of which were unsuccessful and played their part in the scepticism that met his move to north London. "The pressure of a relegation battle is much worse than fighting for the title. A new pressure will now come because of the expectation of going again next year and trying to sustain that.
"But it's more of an enjoyment when you're at the top of the league, you're trying to play with freedom, with a smile. When you're down there, it's really difficult to have that mindset because at times you're worrying about what people are thinking: 'He shouldn't be enjoying it as much because we're down at the bottom.' So for me the pressure down at the bottom is totally worse because who wouldn't want to be at the top? Who wouldn't want to be going for the league?"
Those experiences cut deep and, at the same time, helped shape the player Arsenal were so keen to tie down. "One hundred per cent," he says. "I've learned things with those relegations that I would never learn again. If I hadn't been through that, I probably wouldn't know how to deal with disappointment, with off-the-pitch stuff: if you lose a game, how to react.
"You have to have a life, you have to be able to compartmentalise between football and home life. And that, for me, has come from my disappointments with relegation. If you were to ask me: 'Would I change any of it?' No, I wouldn't. Of course I would change the clubs getting relegated but would I change playing for those clubs and getting relegated? I wouldn't."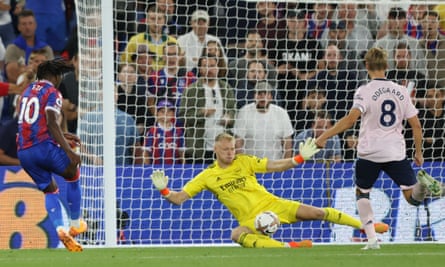 Domestic existence with his fiancee, Georgina, along with their dog, Blue, is Ramsdale's refuge. He has learned how to switch off, park any noise from outside and take pleasure in the things that matter. "People always say you can't do things if you've lost a game," he says. "If I'm honest, after the first two years I had in the Premier League, if I'd taken that advice I would have just been sat in a dark room in the house on my own because I had a tough time of it."
Golf, family time and a drink with friends retain his perspective; the allure of nightclubs, he explains, has long since faded. Ramsdale seeks stability now and, with it, continued evolution at Arsenal. It is his sixth club, loans included, and he would gladly sign enough new deals to set down roots for a decade
"That's the aim. I don't want to move around any more. It's very hard as a footballer to try and stay in one place for a long time, to try and create a home where you can have a family. I don't want to move any more, I want to see out my football here. I want to be a mainstay at this football club and do special things, win trophies and see what this team can do."